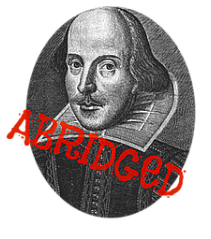 Oh Dragon Theatre Company presents a hilarious, fast-paced romp through the Bard's extensive playbook. Three (yeah that's right, only three) madcap individuals weave their wacky way through ALL of Shakespeare's comedies, histories and tragedies in one wild evening that will leave you rolling with laughter!
Performance dates: May 28th, 29th, 30th, June 4th, 5th, & 6th, 2015. All performances begin at 8pm.
This is a FREE event, but donations are suggested and appreciated (funds raised from this show will go to fund their 4th season). Seating will start at 7:30 pm and is first come, first serve. Bring a blanket or lawn chairs, pack a picnic, and enjoy the show!
**SEATING IS FIRST COME, FIRST SERVE. HELP US KNOW HOW MANY PEOPLE TO EXPECT BY R.S.V.P.ING FOR THE NIGHT YOU PLAN TO ATTEND.**